First Aid for Schools, Childcare & Youth Organisations
Schools, youth work and childcare settings are potentially complex environments for first aid provision. Not only do they need to ensure adequate provision for their staff but they must also consider the children in their care.
Schools must also ensure adequate provision for children involved in sports fixtures and off-site educational visits.
Another consideration (that is often overlooked) are the potential problems posed by site and admin staff working outside the normal school day and in holiday periods. 
We also deliver training for other scenarios including:
INSET for teaching and learning support staff, for example:
Asthma Awareness
Anaphylaxis and Epipens
Curriculum based first aid training, for example:
PHSE Lessons
Childcare Students
Sports Studies Students
Extra Curriculum based first aid training, for example:
Duke of Edinburgh Award Groups
School Expeditions
 Designed For

"Just wanted to say a big thank you to Alistair. He came to Pennine Way Primary School earlier this year.

Thanks to his training I was able to save my Daughter from choking. I seriously can't thank you enough"
Solutions For You
North Pennines Training are able to offer a range of training courses and services that are relevant to the sector:
This is the most basic of our first aid courses and its value within the sector is somewhat limited as in its standard format it is designed for a low risk environment in an urban setting.
It does however cover basic life saving first aid therefore it can be used for administrative and housekeeping staff with the outdoor sector who tend to remain in lower risk, indoor environments. Their skills can then be used to support and supplement the more in depth first aid skills of instructional staff.
Duration:  6+ hours (plus breaks) – usually delivered over 1 day.
Lifespan:  3 years
Requalification: Attendance at another EFAW course.
This is the most comprehensive of our standard workplace first aid courses.
It is possible, with an extended course to combine the First Aid at Work syllabus with the Outdoor First Aid course.
The longer duration allows for a more detailed insight into many of the issues facing first aiders in this environment.
Duration:  18 hours – usually delivered over 3 days. (This does not have to be 3 consecutive days)
Lifespan:  3 years from the last day of the course
Requalification
If the original qualification is still valid or a requalification course can be completed within one calendar month beyond the original qualification expiry date then it is posible to attend a 12 hour (2 day) First Aid at Work Requalification course.
If the original qualification will have expired by more than one calendar month then you must attend the full 18 hour (3 day) First Aid at Work qualification.
The content of this course is exactly the same as the full 18 hour (3 day) first aid at work qualification but it is covered in a shorter 12 hour (2 day) course.
It is only possible to attend this course if it will be completed no more than one calendar month beyond the expiry of the original qualification.
Please check before booking that the current qualification is of the correct type and validity.
The early versions of this course were originally developed for the outdoor activity sector and as such were designed from the outset to cover outdoor specific first aid.
This is an excellent course which meets the first aid requirements for a number of National Governing Bodies within the outdoor sector including;
Mountain Training
British Caving Association
British Cycling
RYA
British Canoeing
The course can also be delivered in such a way that multiple certification can be achieved to include where necessary:
Paediatric First Aid – an ideal combination for forest school leaders
Emergency First Aid at Work
First Aid at Work Refresher
This is a highly practical course that covers a great deal of topics in 2 days.
Duration:  16 hours – usually delivered over 2 days.
Lifespan:  3 years
Requalification: By attending another 16 hour Outdoor First Aid course.
NPT have a highly qualified and experienced team and therefore the possibilities are endless:
CPR & AED (Defibrillator)
Catastrophic Bleeding
Oxygen Administration
Anaphylaxis and Adrenaline Auto-Injectors (e.g. Epipen)
We can work with you to design and deliver the precise training that you require.
The HSE suggested course content for annual refresher training includes:
Acting safely, promptly and effectively in an emergency.
Dealing with an unconscious casualty
Administering CPR
Dealing with bleeding
Dealing with shock
These subjects can be amended or added to depending on the risks identified in the workplace.
They can also easily be incorporated into site based training exercises.
A robust emergency plan is an important part of professional outdoor activity provision. Workers in these industries will typically either be faced with:
a) A longer wait for the emergency services to arrive on scene
or
b) Conducting at least some of the casualty evacuation themselves
North Pennines Training can assist with the design and implementation of emergency plans and also conduct training to test (and practice) emergency plans.
Due to the nature of our work we get to play with a lot of kit. We also hear a lot of feedback on our courses about which kit has worked really well and which should be avoided. Based on this knowledge we have selected particular items of kit that we know work well and we can now supply these items to our clients. These include:
Bespoke AED (defibrillator) kits designed for harsh environments
Trauma Dressings
Blizzard Casualty Protection Blankets
Celox Haemostatic Dressings
Contact us for details.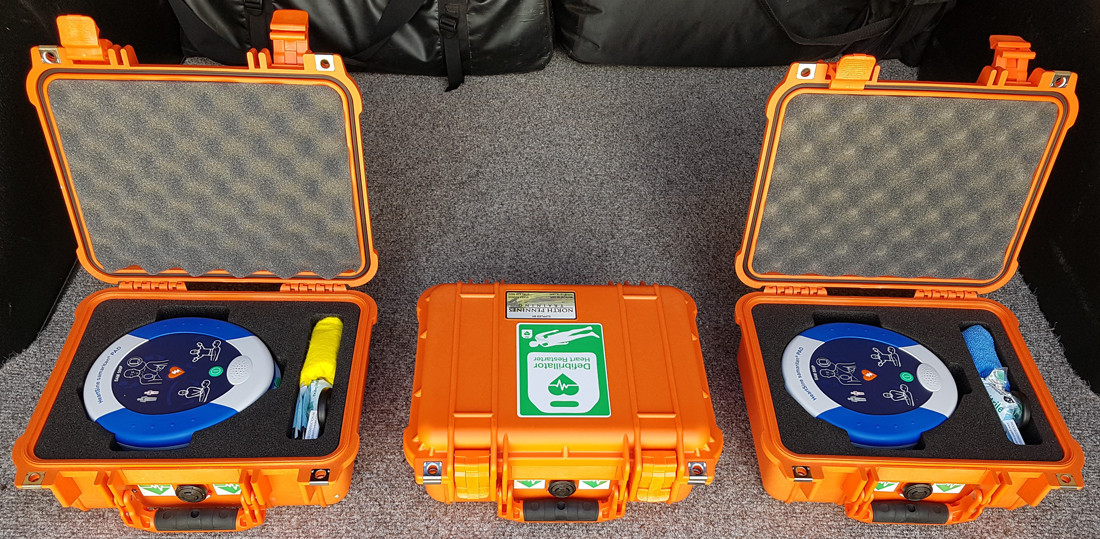 North Pennines Training have a great depth of experience in the delivery of first aid training to a wide variety of organisations.
Instructors delivering first aid training to schools, childcare settings and youth organisations will also have relevant experience of working, or volunteering, within these types of settings.
A process of continual improvement combining the the most current thinking in pre-hospital care with feedback collected from every candidate that attends our courses  means that our courses are very highly regarded.
Thanks again for providing a very thorough and informative course yesterday. Having done numerous EFAW+F courses over the years this was comfortably the best to date. The feedback I have received from the other attendees was universally positive
Instructor combined knowledge and passion with humour and patience. By far the best training delivery I have received in recent years
Excellent delivery. Great not to just have someone reading what was on the Powerpoint. Best of many, many courses I've attended.
The course was excellent, well explained. Alistair has so much knowledge and nothing is a problem. Will recommend him and his company. Cheers.
Having been on 17 first aid courses over the last 40 years this was one of the best.
Best first aid course I've attended. Clear instructions and explanations. Thank you.
The most informative course (lots of background and some sound understanding of physiology) that I have attended.
Very informative course that was delivered by someone who understood the specifics of deer stalking and was able to steer the lecture in a direction that kept us all interested. Well done & thank you.
First time that a first aid course has been interesting for the entire day. Well Done.
Contact us directly if you are interested in a group booking for your company or organisation.
We need a rough idea of when you would like the course, the location and the number of people.
We are happy to discuss your requirements to provide a course that precisely fits your needs.
Alternatively have a look at our open course dates to see whats available in your area.